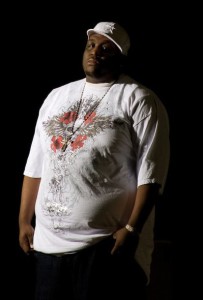 When "Do It Big" becomes more than a cliché statement, where life's breathe is what makes the music come alive, this is where you find him. Louisiana born and Texas bred Songwriter/Artist, DeMorris Hicks aka Heavy, is poised and positioned to make his impact on the music industry.
Growing up in a single parent environment as a middle child for most is an obstacle but for Heavy nothing would be the same if it had been different. "You know that statement a woman can't raise a man? They must not know Linda Faye" Heavy said. "My mom didn't try to teach me how to shoot a ball, I had cousins and my uncle for that. She taught me from a woman's perspective what a woman would want in a man and let life take its course and teach me the rest. Without God and my mom, there is no telling, and I will leave it at that."
Heavy's musical foundation is Gospel music. Like so many others Heavy sang in the local Baptist Church Choir. "Can I sing, lol, I can hold a note even though it may not always be right" Heavy's light-hearted side. It was here that Heavy was first introduced to melodies and harmonies. Soon thereafter, he found himself learning percussion instruments. "I actually wanted to play the drums, because I could hear beats in my head" but paying dues is something Heavy was taught from the beginning and spent years playing the tambourine, wood blocks, and shakers. "Not the most glamorous musical position, but I found out how much the little sounds mean to the overall feel of the music." Heavy would go on to play the drums and even played brass instruments such as the tuba and trombone.
When asked the biggest difference between Heavy the artist and Heavy the songwriter, the answer is simple. When listening to Heavy as the rapper, you get first hand Heavy's life experiences. No fabrication, no gimmicks, just pure, raw truth. Heavy the writer is more focused on making music for others that will be timeless classics. Heavy said "The best thing about writing is you have the ability to create any sound or story you want. There is no boundary. When rapping, I am dedicated to providing my personal life ups and downs. When working with an R&B/Pop artist, its about making someone else feelings and experience come to life." The common factor between the rapper and songwriter is the undeniable catchy hooks and heart felt lyrics. Spend more than five minutes around him and you'll find Heavy is who Heavy says he is. In fact, what makes Heavy such a sought after product, is his personality matches the music.
Heavy isn't quick to drop names although he has had opportunity to grace the stage and studio's with some the hottest artist/producers around. From Tyrese to Ying Yang Twins, O-Town to Kumbia Kings, Carnival Beats Platinum Producer Salih Williams to Platinum Producer Savan Kotecha. When asked about Austin, TX his face lights up. "Some of the best artist and producers I work with live in my city. Of course DJ Versus and Versus Productions, Charlie Roc, Chris Chirp, Jay Mackall, Tflasha, Nook, Bluu Suede, Jon Keys of J.K.M.G. and his best friend/writing partner D(former Kumbia Kings and ATM). The list, much like the music catalog goes on forever.
What the game is missing is no longer a tag line, Heavy makes it reality. This veteran artist possess the hunger of a rookie and being a seasoned songwriter and devoted father makes this southern bred music combination stand out on the menu.